Description
Audiophile 10″ Studio Subwoofer with High Excursion Woofer
NEKKST K10S
The 300-Watt NEKKST K10S Studio Subwoofer's unparalleled, world-class performance is the result of a major collaboration between BEHRINGER audio engineers and loudspeaker master-designer/founder of KRK – Keith R. Klawitter. This incredible audiophile-grade subwoofer is ideal for all critical listening environments thanks to the custom-engineered bridge-mode amplifier that drives the 10″ glass-fiber woofer for rich, deep and tight bass. K10S' front-firing port was designed for the ultimate in low-frequency extension – without the typical boundary coupling and port turbulence found in competing systems.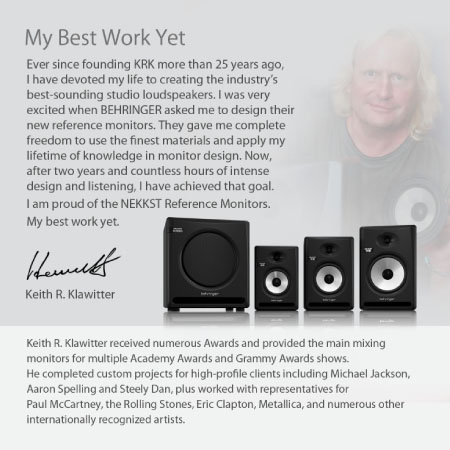 Why Studio Monitors are so Important
The goal of a great studio monitor is to present an accurate representation of your mix, so you can tell how well it will translate to the diverse listening environments and systems of today, such as car stereos, club sound systems, radio, portable digital music players and others. The remarkably-flat bass response of the NEKKST K10S allows you to work with the complete confidence that your mixes will "play" accurately on these systems and to your audience at large.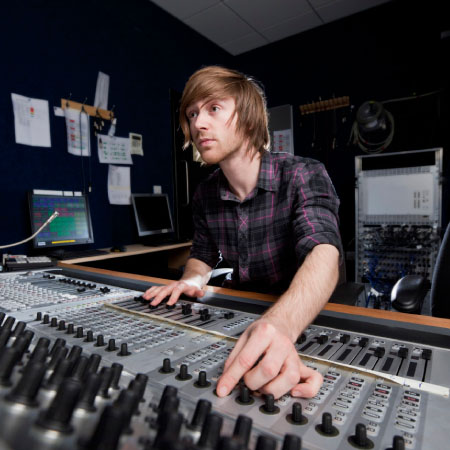 Keith R. Klawitter – the Man Who Invented Studio Monitors
Renowned acoustic icon and founder of KRK, Keith Klawitter, designed the ultra-linear, reference-class NEKKST Series studio monitors and subwoofer. Featuring Keith's Advanced Waveguide Technology for the ultimate acoustic dispersion, the NEKKST Series generates an extremely large "sweet zone", for the ultimate in professional-grade studio monitoring. Adding the amazing K10S subwoofer to your monitor system allows you to experience exactly how your mix's bass content plays in vivid detail – thanks to its powerful 300-Watt bridge-mode amplifier, 10″ glass-fiber woofer and synergistic design. The NEKKST K10S not only satisfies seasoned engineers and producers, but makes audiophile-level sound accessible to both home and professional recording studio applications. Keith Klawitter wrote the book when it comes to modern studio monitors, and to quote the monitor-master, "This is my best work yet!"