Description
Audiophile Bi-Amped 5″ Studio Monitor with Advanced Waveguide Technology
NEKKST K5
The 150-Watt NEKKST K5 Studio Monitor's unparalleled, world-class performance is the result of a major collaboration between BEHRINGER audio engineers and loudspeaker master-designer/founder of KRK – Keith R. Klawitter. This incredible reference system is ideal for all critical listening environments thanks to the custom-engineered bi-amplification system that features separate amplifiers for the 5″ glass-fiber woofer and 1″ silk-dome tweeter. K5's long-throw woofer generates deep, tight bass and virtually smear-proof mids, while the ultra-high resolution tweeter provides sparkling highs – all enhanced by Keith's Advanced Waveguide Technology for an extremely generous sweet spot.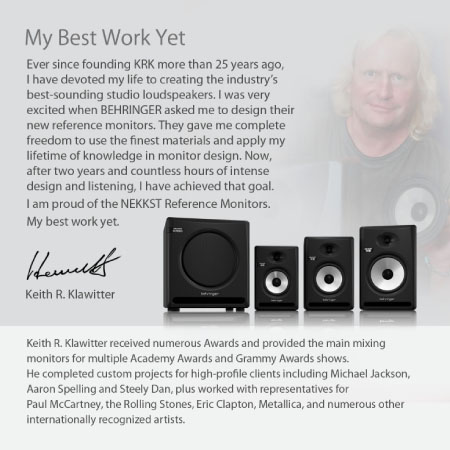 Why Studio Monitors are so Important
The goal of a great studio monitor is to present an accurate representation of your mix, so you can tell how well it will translate to the diverse listening environments and systems of today, such as car stereos, club sound systems, radio, portable digital music players and others. The remarkably-flat response of the NEKKST K5 allows you to work with the complete confidence that your mixes will "play" accurately on these systems and to your audience at large.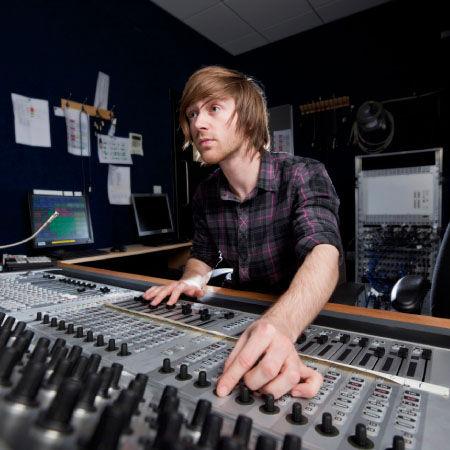 Keith R. Klawitter – the Man Who Invented Studio Monitors
The ultra-linear, 150-Watt reference-class NEKKST K5 was designed by renowned acoustic icon and founder of KRK, Keith R. Klawitter – a man who has devoted much of his life to the quest for the "perfect" loudspeaker. The K5 features Keith's advanced Waveguide technology for the ultimate in acoustic dispersion, which generates an extremely large "sweet zone" for easy and optimal monitoring. A true bi-amped system, an ingenious crossover design and separate amplifiers are utilized for high and low-frequency signals, providing superb sound reproduction from the long-throw, deformation-resistant, glass-fiber cone woofer and pristinely-accurate, silk-dome tweeter. The NEKKST K5 not only satisfies seasoned engineers and producers, but makes audiophile-level sound accessible to both home and professional recording studio applications. Keith Klawitter wrote the book when it comes to modern studio monitors, and to quote the monitor-master, "This is my best work yet!"