Description
Audiophile Bi-Amped 8″ Studio Monitor with Advanced Waveguide Technology
NEKKST K8
The 150-Watt NEKKST K8 Studio Monitor's unparalleled, world-class performance is the result of a major collaboration between BEHRINGER audio engineers and loudspeaker master-designer/founder of KRK – Keith R. Klawitter. This incredible reference system is ideal for all critical listening environments thanks to the custom-engineered bi-amplification system that features separate amplifiers for the 8″ glass-fiber woofer and 1″ silk-dome tweeter. K8's long-throw woofer generates deep, tight bass and virtually smear-proof mids, while the ultra-high resolution tweeter provides sparkling highs – all enhanced by Keith's Advanced Waveguide Technology for an extremely generous sweet spot.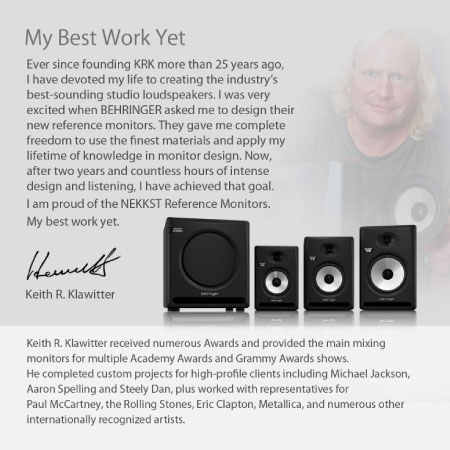 Why Studio Monitors are so Important
The goal of a great studio monitor is to present an accurate representation of your mix, so you can tell how well it will translate to the diverse listening environments and systems of today, such as car stereos, club sound systems, radio, portable digital music players and others. The remarkably-flat response of the NEKKST K8 allows you to work with the complete confidence that your mixes will "play" accurately on these systems and to your audience at large.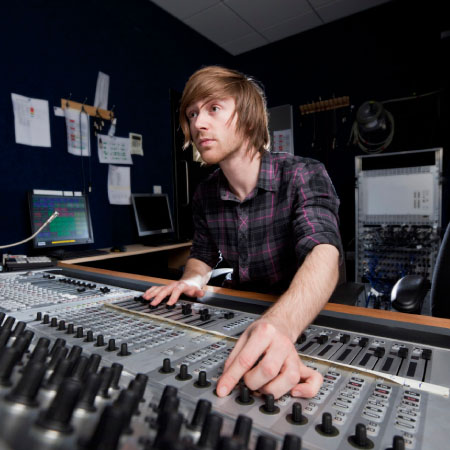 Bi-Amplification – The Path to Absolute Signal Integrity
With its 150 ultra-clean Watts of output, delivered through separately-powered drivers via a true bi-amping mode with 2 amplifiers per speaker, the K8 delivers high-resolution sound that really brings out the best in your music. You will notice that most competitors apply simple passive crossovers, which not only inaccurately separate the frequency spectrum, but most importantly impact the drivers' performance. BEHRINGER has gone the extra mile, driving each woofer and tweeter with a separate amplifier for absolute signal integrity.